Yesterday's FOMC statement was similar to December's.  The US economy continues to improve and our charts continue to show USD strength. Conversely, the UK economy is slowing, the EURO zone has lots to deal with and Greece will  remain topical going forward.
A GBP short set up nicely with a close below both yesterday's low and the Asian session low.  To be clear, this was not a breakout trade.  We don't do those.  The highlighted area shows a fairly typical "wash and rinse" of the early session breakout traders.  We waited for this pattern to be complete then looked for the real move to be confirmed.  The economic news calendar was light with US Unemployment Claims number pending later in the session.  With a stop loss above the session spike high, we had a R/R of greater than 3:1 to our Target 2.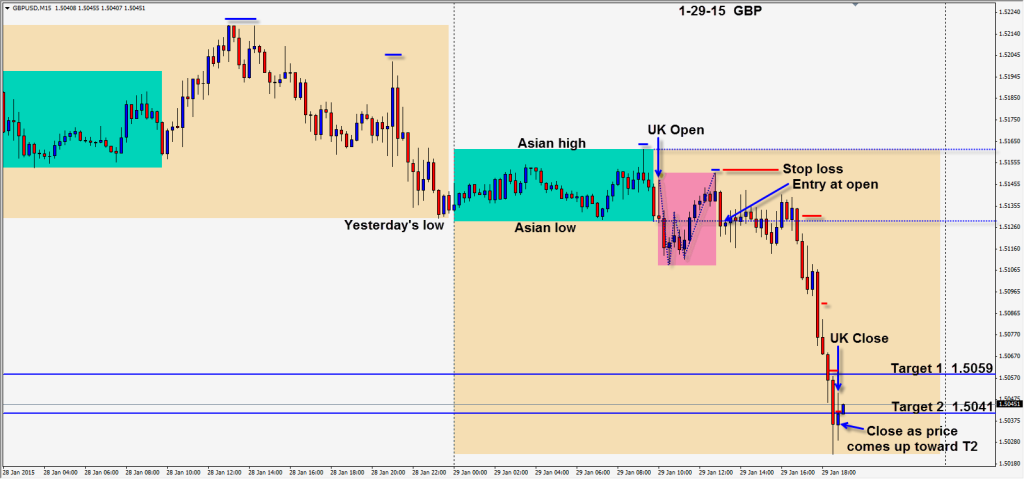 Very often we see nice trending moves at this time of day.  However, it wasn't until well into the US session that the trade got moving.  Patience is extremely important in trading.  As the trade moved down and cleared the 1.5105 area which was a key level today, it picked up downside momentum quickly.  As price closes below our Targets 1 and 2 we tighten up our take profit level and exit the trade as it moved back toward Target 2.
Position traders would be wise to watch how price reacts around the Jan. 23rd 2015 low and also the March and July 2013 lows.
Also, the EURGBP is very active and we continue to look for short opportunities there.
Good luck with your trading!
Back tomorrow if we find a trade.