The EUR set up nicely requiring a 13 pips stop loss for a potential 79 pips to our Target 2. These are very nice trades to find.
The EUR had a quick selloff, then set up nicely for a long. It took until the US session before price took off but our relatively inexpensive stop wasn't challenged in the meantime. Sellers entered above yesterday's high and that was it.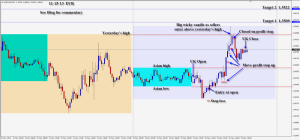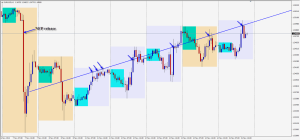 Note on the attached 60 minute chart how price has reacted to this line all week. We drew it on Monday. The line is part of a tool I was trained on years ago – by one of the largest traders in the world. If you can guess correctly what the line is from… I will give you 1 hour of free training (no obligation) on one of the most powerful tools used in the financial markets. I invested over $10,000 being trained on it and have thousands of hours of applied experience with it. Send me an email if you think you know what it is. The deadline is November 17, 2013 midnight Pacific time.
Michael@privateforexcoaching.com
Good luck with your trading!
Back Tuesday if we can find a trade.