The GBP had economic news to digest, then made its move lower. It's always best to wait until the news is out of the way and look for the trending move to begin. Let price tell you when it's underway. Do not trade based upon the economic news outcome and do not chase price.
After the news candle, we waited and look for signs. After 2 wicky candles a very bearish engulfing candle followed. Sellers were in charge and an entry is taken with a stop above the post news candle spike. The more conservative stop is above the news candle spike high, but not necessary. If the trend is not down, I want out just above the bearish engulfing candle double top.
Price moves down making lower highs…then pauses at the Asian session high – no surprise there. We protect some profit and remove all risk from the trade. Price moves down and tests the Asian session lows – no surprise there. Price moves further down cutting right through yesterday's low – okay a surprise there, but no complaints. We close the trade at Target 2.
Our targets are very accurate and I have used them for years. Do they work every day? No…but they are fundamental to my strategy and when the market is trending, they are awesome.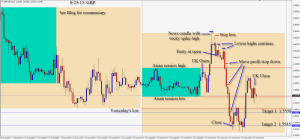 It's been a very good week for trading.
Good luck with your trading and have a wonderful weekend!
Back Tuesday if we can find a trade.
If you are looking for some private one-on-one coaching, please contact me for details.