The market currently remains focused on the U.S. tax reform and it remains a mystery as to how much reform will eventually happen.  In the meantime the USD is having difficulty getting traction to the upside.
President Trump was elected a year ago and it's interesting to look at how the financial markets have reacted over this period.  The USD has appreciated 8% to the JPY, depreciated 5% to the EUR and depreciated 6% to the GBP.  Overall, the USDX is down 3%, US 10 year yields up 45 bp and the S&P is up 21 percent.
All countries have their issues and it's always curious as to what and for how long the markets will tend to focus on or disregard the issues.
Trading lately for me has been slower than usual and the daily trading ranges have been tighter than usual for this time of year.
The NZDUSD set up for me yesterday and the USDJPY today, but both trades had very modest returns.
The USDJPY has been making a series of lower highs since Monday and as it began to roll over today, an entry short was taken near yesterday's low…risking 13 pips for a potential 45 pips to our daily target.  Price continued lower but when a long lower wick appeared just before the U.S. open, we chose to place our profit stop just above the high of the candle and we were closed immediately for a modest gain.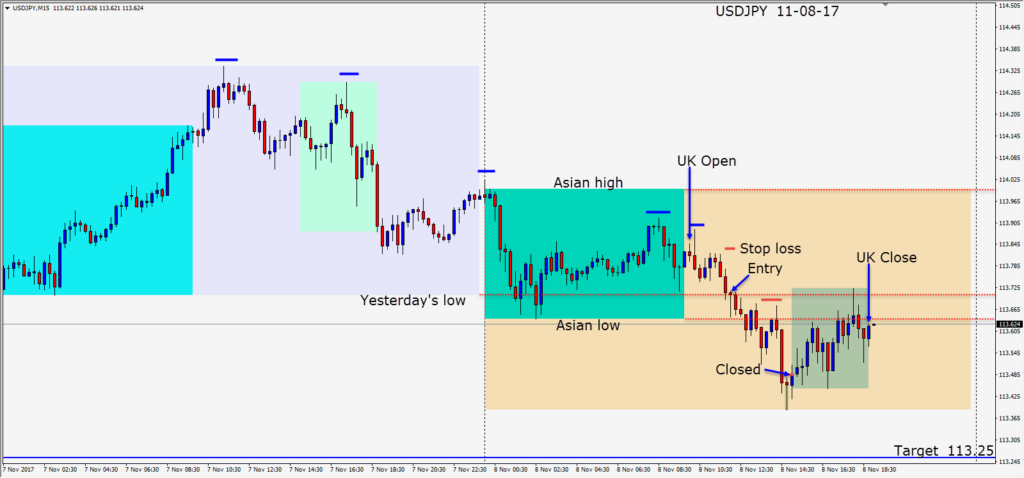 On Tuesday, the NZDUSD set up for a short trade as it failed to stay above its Asian lows an hour before the U.S. open.  The risk of 9 pips for a potential 35 pips to our daily target was an attractive R/R.  The market lately has had some attractive setups, but the reward for the risk has not been conducive to my style of money management.  As the U.S. session got underway and price dropped… we were almost stopped out protecting less than 5 pips.  Fortunately we were not and price continued lower before forming a long lower wick. We moved our profit stop lower.  Price reversed on the next candle and we were once again closed at our profit stop for very modest gains.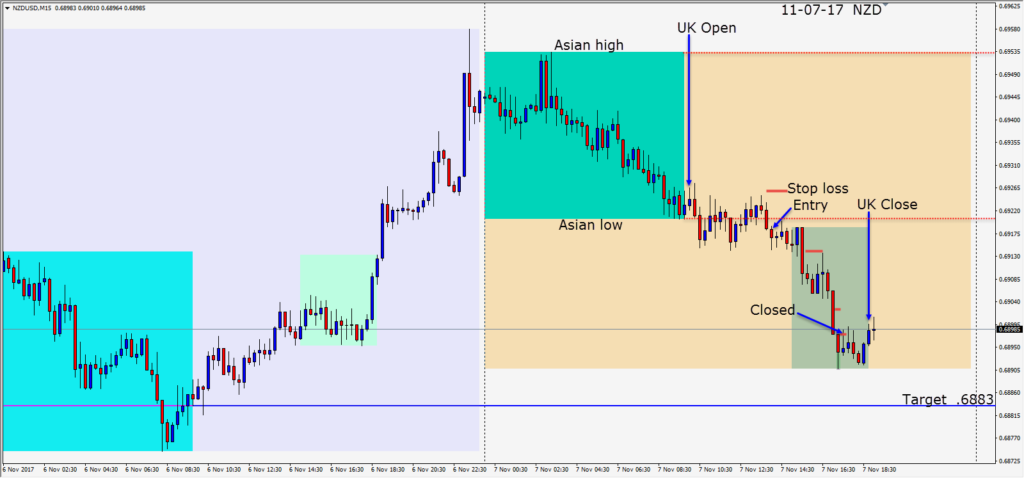 When trading is slow for a period of time, we still need to stick to our trading plan.  If trades set up nicely, we can take them, and if not, we come back the next day and hope to see something that we like.
There have been a lot of mixed signals lately which makes conditions more difficult to trade.
Good luck with your trading!