This was a very simple trade setup that is countertrend and produced a small but quick return.  The thinking behind it was quite simple.  The USDJPY which is trending downward has come to test a very critical level.  Critical levels like to be retested and on the first test – often hold and produce a reversal setup.
The USDJPY at this stage needs to break the 110.00 figure and continue down to reinforce its trend…which is very strong at the moment…looking at the weekly, daily, 240 and 60 minute charts.
As it bounced today at 110.00 and began to move higher after the U.S. ISM Manufacturing PMI release, the U.S. dollar index confirmed a bid tone for a change.
The idea was to go long after the bounce with a 13 pip stop loss and ride price higher until the U.K. close…hopefully to the Asian high or higher.  Price had already fallen vertically and in many cases vertical moves are followed by reversals that tend to be vertical too.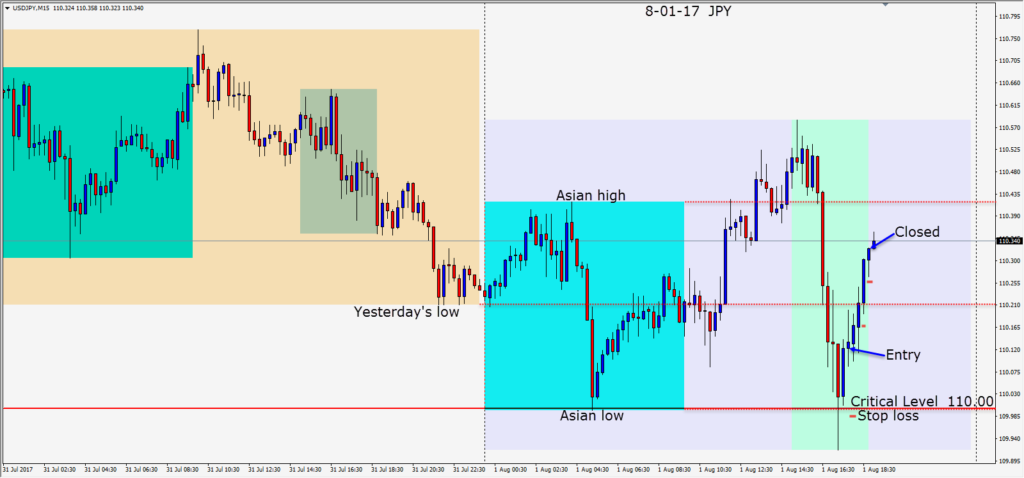 In this case, price moved quickly higher and the trade was exited at the U.K. close for a modest amount of pips.  Countertrend trades tend to be less rewarding.  The market is not unidirectional and taking countertrend trades can be rewarding if done very cautiously – risking very little and keeping your profit stop tight.
Good luck with your trading!