This past week was extremely busy for central banks.  The U.S. had their first rate increase since December.   As opposed to seeing USD strength after Janet Yellen tipped the market last Friday that a rate increase was forthcoming (and the usual rhetoric) we saw a sell-off of the USD.  The markets had lots to digest all week as we heard from ECB President Draghi on Monday, Janet Yellen on Wednesday coupled with an interesting election in the Netherlands, followed by the Bank of Japan and disappointing Australian employment numbers Thursday and G20 meetings Friday and Saturday.
While USD bulls remained poised to trade long, the opportunities to do so were few and fleeting.  With WTI remaining below $50 all week a USDCAD long was found today.  After the bullish U of M Consumer Sentiment number and a bullish reversal setup… a long was taken risking 17 pips for a potential 76 pips to our Target.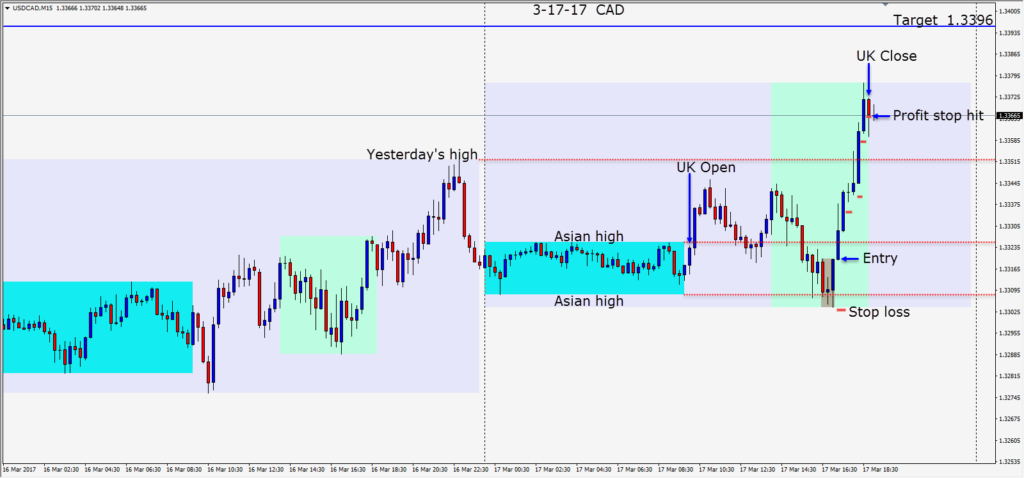 Price moved higher and just before the UK close, profit taking brought price down closing the trade for a nice ending to the week.  My earlier 2 trades this week were 13 and 10 pips respectively and not eventful in any way.
I continue to be bullish on the USD but the majors are not trending clearly.  Patience and very selective entries on a session by session basis is my preference for now.
Good luck with your trading and enjoy your weekend!