What a difference a week makes in changing the sentiment of the markets.
The big question today for traders is Janet Yellen's wording regarding a U.S. rate hike on March 15th.  Even dovish Fed members have been sounding hawkish this week, so the market is pricing in a rate hike.  If Yellen's wording is not consistent with that forecast then the USD will weaken.  A lot can happen between now and March 15th so it is never a given until hit happens.
Looking at the majors, the charts are showing USD strength.  The AUD and NZD have been coming off their highs this week and with a stronger USD, and the 10 year yield reaching the 2.500 level, I am looking for short setups.  The Kiwi moved up into the U.S. Open but quickly topped out and reversed.  A short is taken risking 15 pips for a potential 34 pips to our Target.  Price moved down and closed below its Asian low and we allow for it to retest the level moving our stop loss down.  We now have no risk in the trade.  We hoped that price would move down to the .7000 figure but it did not and our profit stop is hit.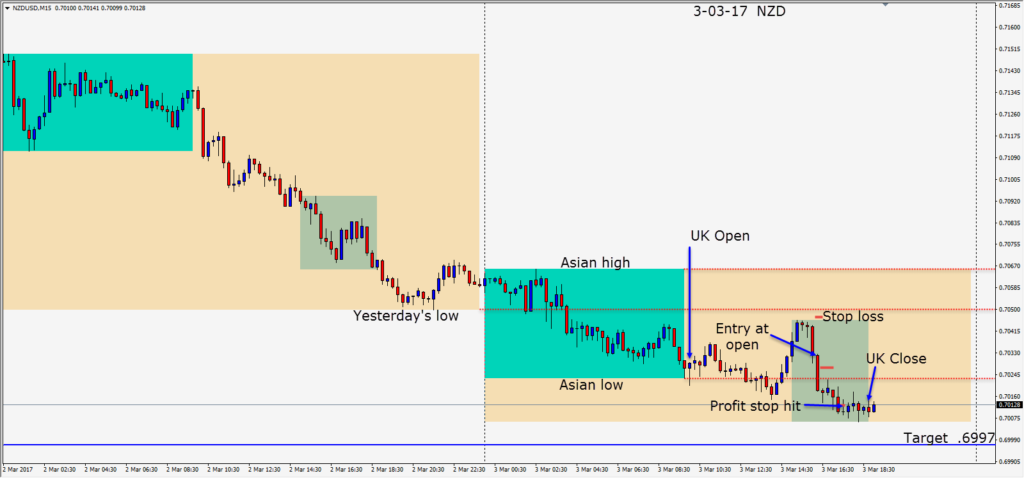 Next week looks like it will be exciting with lots of economic news throughout the week and a very closely watched  Non-Farm Employment number on Friday.  Next weekend North America moves to Daylight Savings Time – moving clocks ahead.
Good luck with your trading and enjoy your weekend!