Taking a look at the daily chart of the USDJPY, we can see since Jan. 27th 2017, the pair has not been able to close above the 115.00 area.  With renewed USD strength based upon an anticipated interest rate increase next week, the pair is trying to move higher… and will get there.  Today the market was focused on ECB President Draghi speech and with slight USD weakness, shorting the pair as it failed to break higher, using a small stop loss worked out twice in today's session.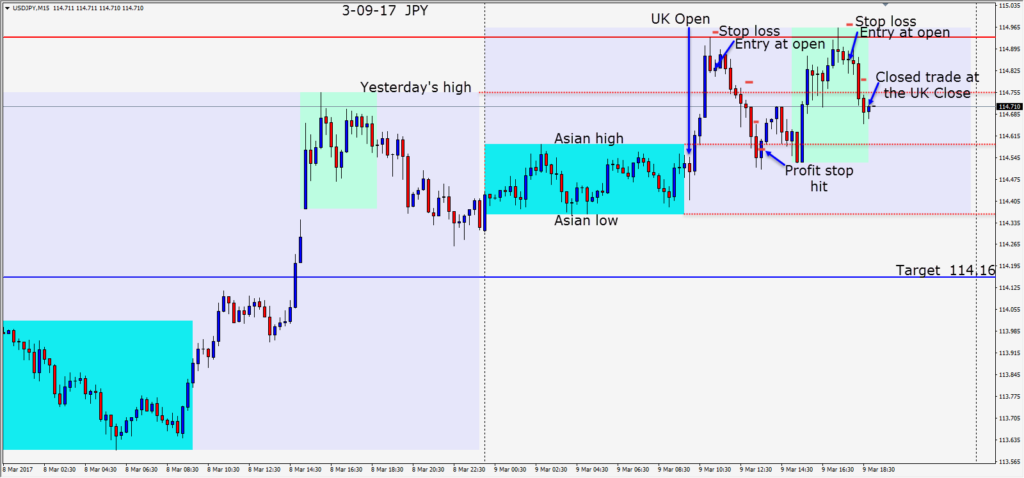 Although this was a countertrend trade, we used small stop losses and did not expect the trade to move far to the downside.  As usual we read how price reacted at yesterday's high and the Asian session high.
Tomorrow will be the NFP release which traders will watch very closely in case there is a substantial miss.  If the number is slightly lower, meets or exceeds expectations, then the market believes the rate hike on March 15th is assured.  As recently as yesterday, the consensus was indicating a 94 percent probability for a rate increase next week.
**** In North America the clocks go ahead one hour this weekend – which changes the U.S. overlap period with the European and U.K. traders.
Enjoy your weekend!
Back next week.