The EUR appears to be sensitive to the polls indicating which candidate is ahead in the pending French election lead up.   If Le Pen appears to have greater support than Macron and Fillon, it will not bode well for the single currency.  Traders will be awaiting the ECB Press conference on Thursday and anticipating a further dovish bias tone from Mario Draghi.
After the U.K. traders began today, the EUR attempt to climb above its Asian session high was quickly thwarted setting up a reversal pattern coupled with a third lower high.  A short is taken with a 9 pip stop loss for a potential 69 pips to our Target of 1.0525 today.  Price moved down taking out both yesterday's and the Asian session lows before forming a doji looking candle with a long lower wick.  We tightened our profit stop to the high of the doji candle and the subsequent candle closed our trade.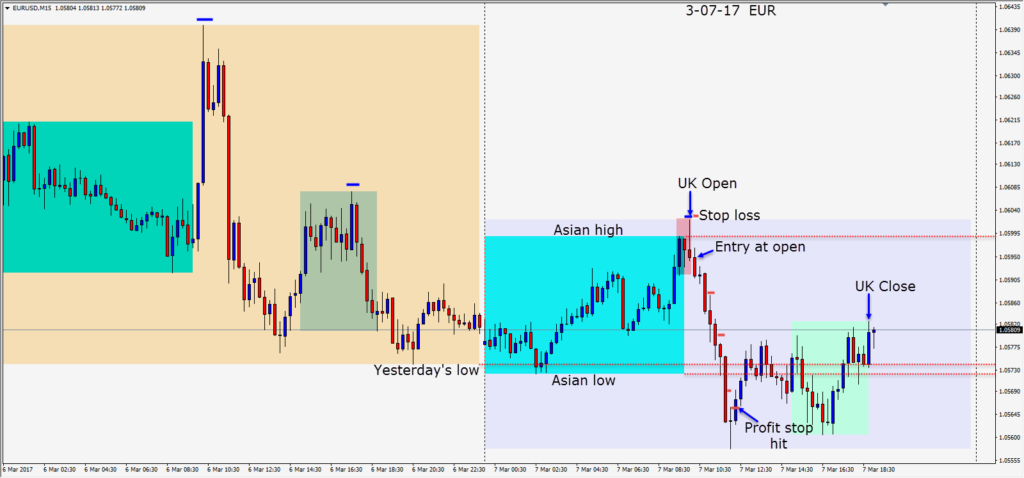 The GBP remains weak with the House of Lords influence possibly delaying the triggering of Article 50 for the moment, and focus tomorrow will be on the U.K. Budget.
Good luck with your trading!