The markets appear to be concerned about the outcome of the House of Representatives vote tomorrow regarding healthcare reform.  This could be viewed as a test for President Trump's power and the likelihood of tax reforms this year.  Equity markets and the USD have been selling off in advance of the vote.
A very similar setup occurred in the USDJPY as yesterday and we traded it the same way.   The U.K. traders initially pushed the pair up and it failed to stay above the 111.50 area which supported it yesterday.  As it reversed, an entry short is taken and price moved down to test its Asian session low before moving a little lower.  As it came back up to retest it's Asian low, our profit stop closed the trade.  Once the U.S. session got underway, just like yesterday, we went short at the first sign of weakness with a 10 pip stop loss above the new session high for a potential 55 pips to our Daily Target. With no U.S. economic releases pending that could possibly derail the trade, we rode it down and closed it as it bounced above our target.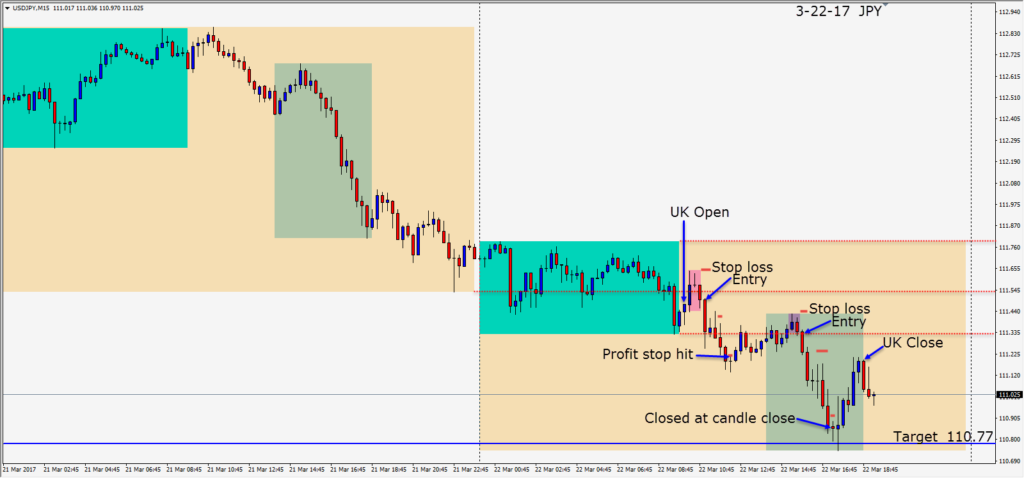 We'll find out soon if the 110.00 level can hold and stop the decline in the USDJPY.  We will also see if the current Euro strength can take it through 1.1000 but the 1.0885 area is critical in the meantime.
Good luck with your trading!