The GBPUSD continues to drops further making new lows, most days.  On days that it moves up, keep your eyes on the candles for the roll over and if you find an acceptable R/R entry, a short can be rewarding.  Today as it rolled over, we found an entry risking 20 pips for a potential 74 pips to our Target 2 giving us a greater than 3 to 1 R/R.  Price came back at is once giving us no more than 5 pips of heat before tumbling much lower – taking out the Asian low and yesterday's low without looking back.  As price pierced through out Target 2, we protected the level and chose to close the trade after the next candle moved up… with our daily target realized.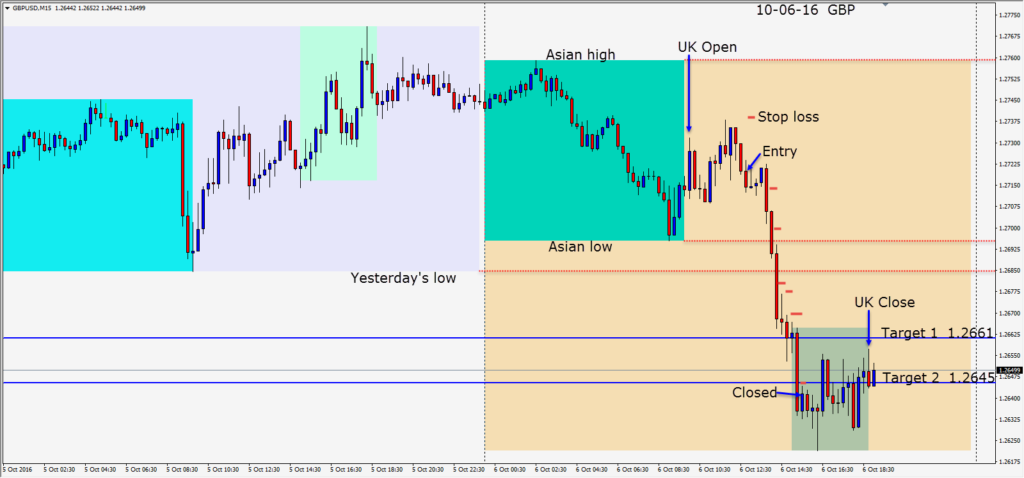 Looking at a MSML on a daily chart, we can see that price could drop further in days to come.  Keep in mind that although the market is preoccupied with the cost of Brexit, it will shift its attention away from Britain to Europe, Japan and the U.S. in any given week and on any given day.  The GBP shorts will be squeezed eventually.
It's best to focus on the technicals, but be aware of the markets' sentiment toward the fundamentals.  Trade what you see, not what you think makes fundamental long term sense.
Keep your stops tight and protect your profits by moving your profit stop to lock in profits as the market moves in your favour.
Friday will be NFP in the U.S. so traders will use the number to determine how soon an interest rate hike is likely.  To avoid the volatility associated with NFP we will keep out of the market until next week.
Monday is a holiday in North America.
Good luck with your trading and enjoy your weekend!