China's PMI number missed and both the AUD and NZD sold off during the Asian session.  As both pairs moved up from their Asian lows, we looked for the sellers to enter and go short with the trend.
The AUD offered a nice setup with a 15 pip stop loss for a potential 58 pips to our Target 2.  The Kiwi offered a very good reward to risk ratio trade setup too (not shown).
As the U.S. session got underway and with no U.S. economic news releases pending, we enter short with the intention of getting down to the Asian session low and if the momentum continues…to our Targets 1 & 2 – but we are acutely aware of the .7000 big figure as mentioned yesterday.
As the UK session ends, we exit the trade just below Target 1.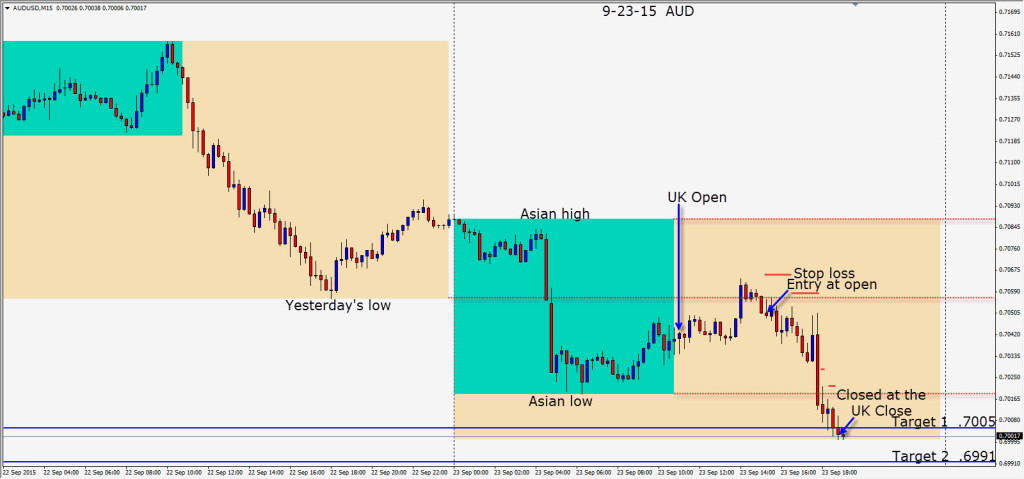 There will be European and U.S. economic releases tomorrow, so trade accordingly.
The RBNZ is expected by the market to lower interest rates going forward… so more short opportunities will be presenting themselves.  I will continue to look for shorts versus the USD as this trend continues…with or without interest rate hike rumours.  Janet Yellen will be speaking after the U.S. close tomorrow…
Good luck with your trading!
Back tomorrow if we find a trade.