The JPY set up nicely as it tested its Asian session lows and found buyers.  With the potential for knee-jerk volatility being very high, my preference is to trade the setups in the direction of USD strength with the smallest stop losses.  As the JPY bounced convincingly off its Asian low a long is taken with a stop loss of 14 pips for a potential 84 pips to our Target 2.  This pair tends to get active during the US session but a nice setup had us enter in the sweet spot of the UK session.
As price rose we expect it to test and retest the Asian high.  We move our profit stop up allowing a few pips of wiggle room and anticipate the same for yesterday's high just above.  As price makes a double top but still looks bullish, we tighten our profit stop not wanting to give back more than a few pips if it retraces from here in the last hour of our session.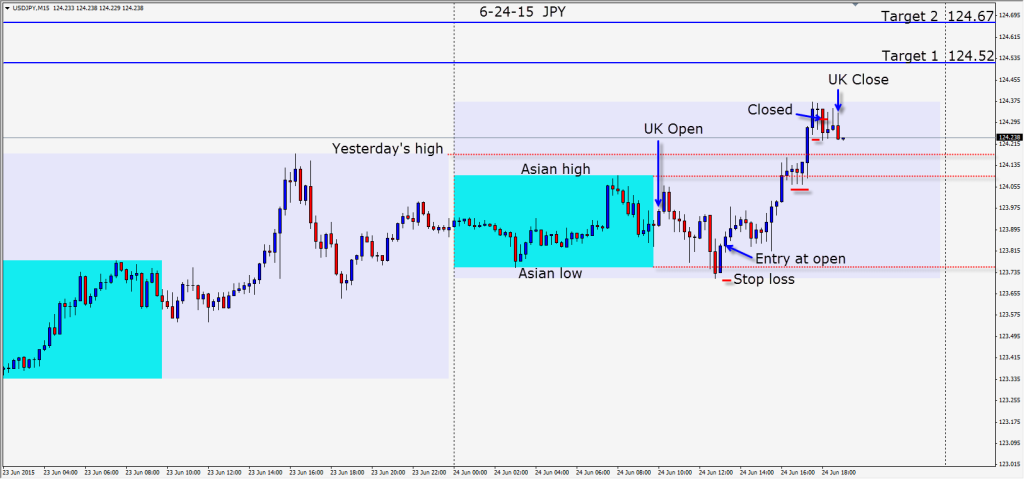 The AUD set up nicely for a short entry after the US news. (not shown)  The Kiwi wasn't nearly as good.
The ECB/Greece situation remains unresolved… so volatility is potentially very high on any related headlines.
Curiously of note, the USDCHF became quite active again yesterday.
Good luck with your trading!  Keep your stop losses tight and lock in profits as you go.
Back tomorrow if we find a trade.