The USDCAD moved downward after the U.S. and Canadian economic news releases today.  With the USD weakening and the Canadian Trade Balance beating expectations, a short is taken with a 15 pip stop loss.  Price moved down and initially bounced at the Asian low before dropping right through it – where it then retested yesterday's low.
As this is a counter-trend trade within a counter-trend week, we tighten our stop loss to get the risk out of the trade quickly and then tighten our profit stop as price moves in our direction.  The long lower wick (shown on the chart) is a warning that buyers were entering and we tightened our profit stop again… only to be taken out on the subsequent move up.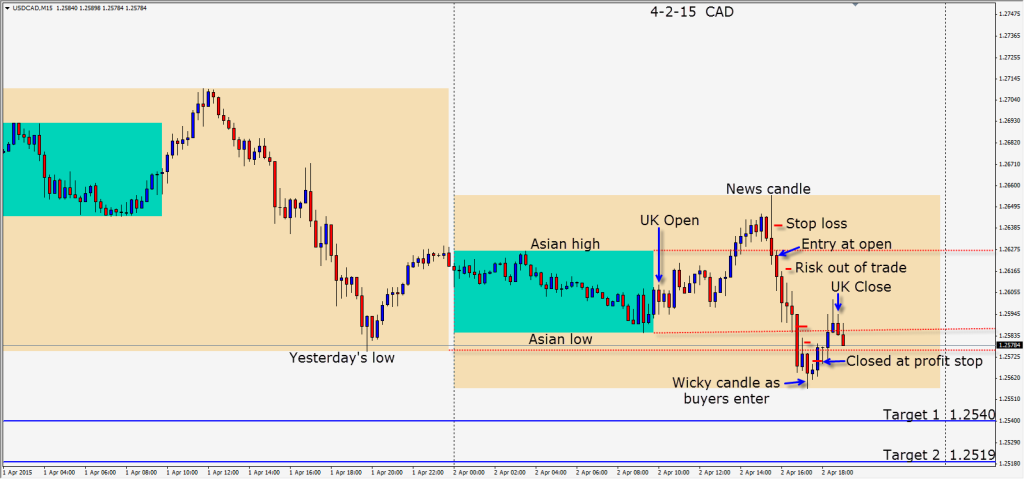 The always important Non-Farm Employment number will be released tomorrow with many traders away for the holiday weekend.  We will soon know what sort of impact it will have on the markets.
If the CAD continues downward, be cautious around the 1.2450 and 1.2380 levels as buyers are likely to emerge.
Good luck with your trading!  Enjoy the Easter holiday weekend.
Back Tuesday if we find a trade.