An interesting week so far as the market awaits the NFP number this Good Friday.  With many markets closed, it's a little surprising that the U.S. has not waited until next Friday for the release.
There were some counter-trend moves yesterday and trade setups have not been clear for us.  As the USD began to weaken in the UK session, our best trade setup came from the USDCAD – even before WTI began to move upward.  The majors appeared to be moving in sync  and a bearish candle closed on the CAD 15 minute chart – taking out the previous hour's move up.  A  short is taken with a 15 pips stop loss for a potential 125 pips to our Target 2.
As price moved down below the Asian high, we tighten our SL  to plus one pip – as this is a counter-trend move.  WTI moved up after a triple bottom and the trade looked increasingly promising.  Momentum however faded as price settled in at the Asian lows and after trying to go lower, we protected our profits closing the trade on the bounce upward.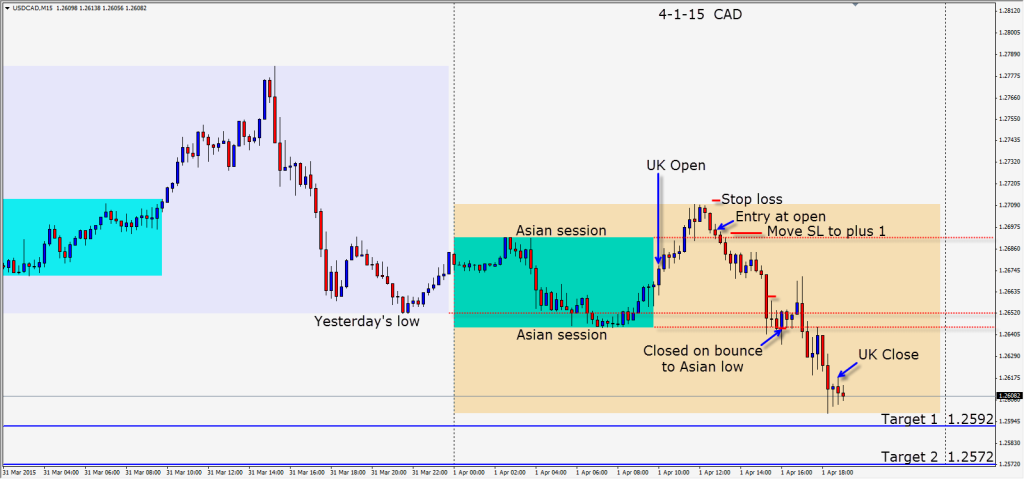 It's a shortened week for us and we will be back tomorrow to wrap it up if we find a trade.
Good luck with your trading!