The GBP has now retraced from its Jan. 23 low of 1.4950 to its high on Feb. 26 of 1.5551 back and below 1.4950.  As mentioned last week the 1.5000 level was imminent.  USD strength remains the trend and trading accordingly is the safer trade.  Although I can make a case for a continued lower GBP – it is prudent to be respectful of ranges.  At the lower end of a range…buyers will emerge and at the upper end of a range… sellers will emerge. Anticipate some two-way price action.
After the US economic news releases today, an entry short is taken with a tight stop above the previous candle as BofE Governor Carney was speaking.  There clearly were no buyers above the 1.5000 big figure and price started to move down – with trend.  As lower wicks began to appear, we moved our take profit level down to just above the previous candle high.  The market took us out  and continued its move to and beyond our Targets 1 and 2.  Although we missed more than half the move, it is better to heed price than to be greedy.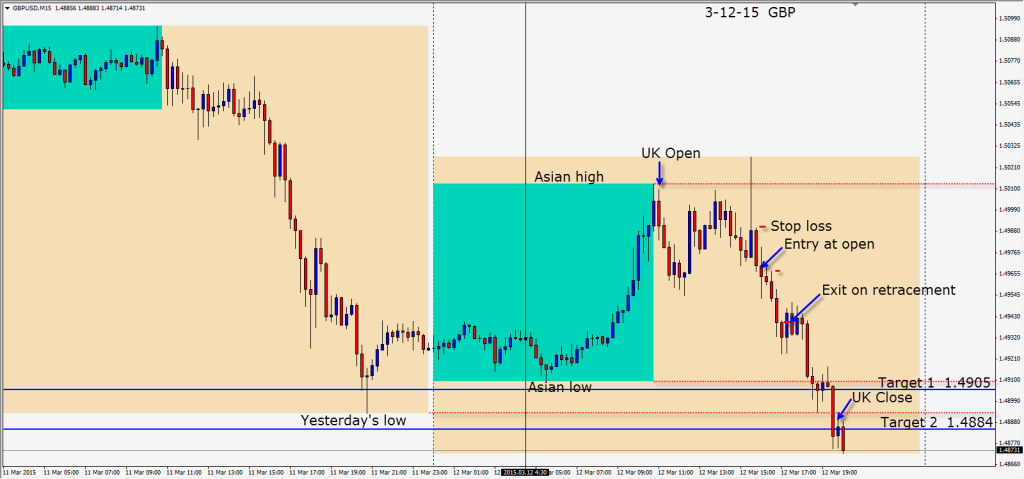 There appears to be plenty of room still for this pair to fall further but price is likely to be a bit sticky around the 1.4800 figure before dropping further.  Selling retracements and looking for short setups is what I will be looking for.  A retest of 1.4950 to 1.5000 area would not be unusual.
Good luck with your trading.  Keep your stops tight and your risk exposure small as money management is imperative to trading success!
Back tomorrow if we find a trade.