The AUD set up nicely for a short trade consistent with the trend.
An interesting note here is the Reserve Bank of Australia has not ruled out intervention and has repeated that the AUDUSD remains above estimate of fundamental value… which sounds to me like they are okay with the AUD getting weaker.
Although it's been moving up recently, I prefer to find short setups consistent with USD strength.
Unfortunately this nice setup ran out of time for results at the UK close for me.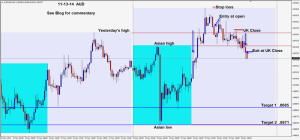 Good luck with your trading!
Back next week.