The EUR and CHF pairs trade inversely. If you miss an entry on one or don't like the cost of a stop loss on the EUR – look to see where you would need to place it on the CHF.
Although the markets have been gyrating about this month, and stops have been run repeatedly, the overall bias remains in my opinion to be favourable for the USD. Most economic news from the US is favourable this year. Much of the news recently from Germany has not been favourable. This adds up to EUR weakness and USD strength.
Looking at the charts the trend is not nearly as clear to see as it was in September but my bias is unchanged.
As Janet Yellen started speaking today, the USD caught a bid tone. After 2 higher lows on the CHF and a solid close back into the Asian range – a long trade is taken with a stop loss just below the previous candle's low and beneath the Asian low. This meets our R/R of greater than 2:1 for this time of day.
As price moves up, we expect it to test and retest the Asian high. With further US news pending we move our stop loss to plus one pip which equates to a stress-free trade. If the news takes us out – so be it. If the news creates a very bullish move, we ride it up protecting our profit. Neither happened today but the net result was positive. After the initial rise up, we lock in 25 pips and as price fades post news – we are taken out.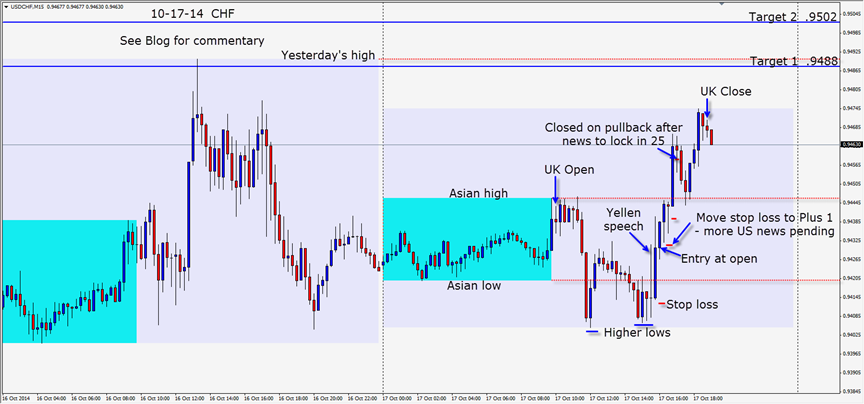 Always be careful entering in the middle of the Asian range. I prefer to avoid this area, but if I have a confluence of reasons, I will make an exception using a tight stop loss and my finger ready to click out very quickly should it go awry.
Good luck with your trading!
Enjoy your weekend! Hope some of you caught the beautiful move on the CAD yesterday which I missed.