NZD retraces briefly but does not give us the full move we had hoped for today. One of my favourite trades is after a currency pair makes an extended move during the Asian session – to have the UK traders retrace the move entirely or at least 85% of it.
The NZD sentiment seems to be fading and the pair may have put in its high for now, near the .8835 level.
Janet Yellen's comments yesterday although not hawkish, might be considered by the street as "less dovish" than in the past. Are we going to see a slow grind higher with the USD? We are about to find out…
After a sell off during the Asian session, we see the NZD get bought as it tested the Asian session lows. We enter long with a 12 pip stop – hoping to capture a full retracement but it wasn't to be. The pair begins making higher lows but as Janet Yellen's testimony Day 2 got underway, price pulled back and closes us out at our profit stop for a meager gain.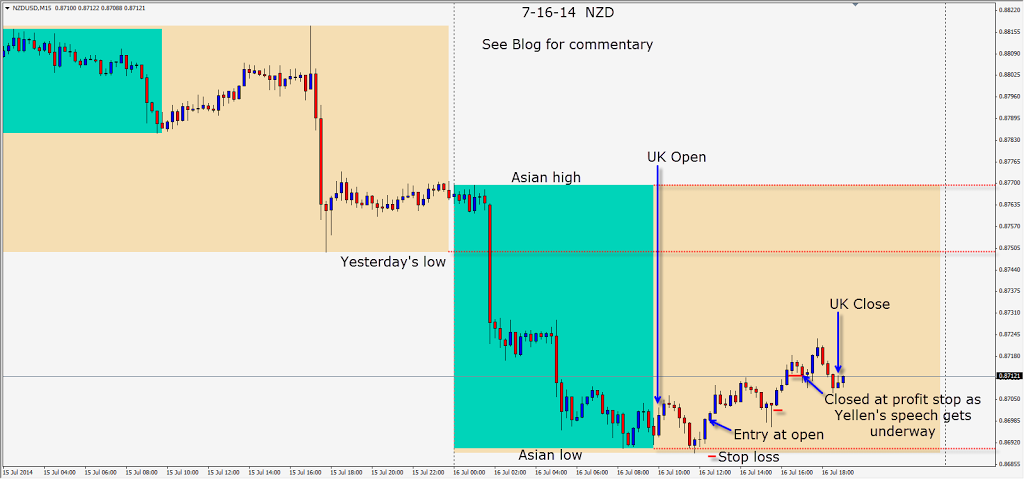 Important US economic news releases tomorrow…trade accordingly.
Good luck with your trading!
Back tomorrow if we find a trade. Tuesday was just too tricky for us to trade. If the setups aren't there – come back the next day.