As we await the FOMC outcome, both the CHF and EUR set up nicely for modest pips. I preferred the CHF setup despite its tighter recent range. Knowing that the market it focused on the FOMC outcome today, it is unlikely that large moves would take place in advance.
The CHF has been moving sideways recently and this is evidenced on the Daily chart. The .8965 level is where it has been bouncing upward. Our Target 1 today was .8959 and our Target 2 was .8953. We use Target 2 to determine our Reward to Risk and if it's greater than 3:1 and we like the setup, we evaluate the potential trade closely. The Daily chart however tells us that price tends to bounce upward at .8965 – so we keep that in mind when we consider our R/R for a short today.
I love the setup as price has lured in breakout shorts twice and pulled back well into the Asian range. After a convincing break below the UK session lows, we enter short with a Stop Loss just above the Asian session lows – allowing for a retest of the level.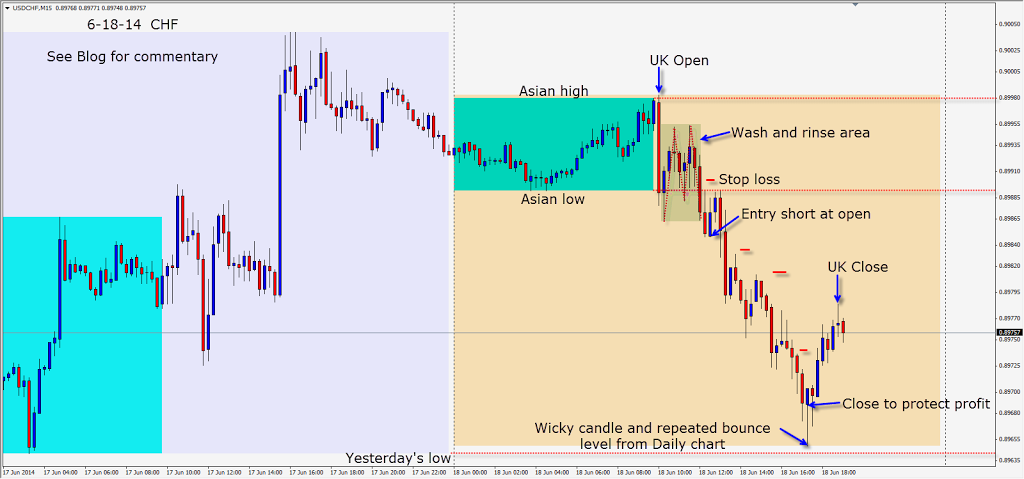 Price moves down and bounces once again at the .8965 area and we close the trade.
This was a bit of counter-trend trade as the market appears long the USD going into today.
Note the GBP candle at the time of the UK economic news releases today. This is good reminder as to why it is not a good idea to trade in front of major economic news releases and to tighten one's profit stop if already in a trade…the GBP did it's entire daily range in one candle.
Good luck with your trading!
Back tomorrow if we find a trade.