The EUR is an interesting pair to trade at the moment after the comments from ECB President Draghi last week. We want to find short setups that meet our R/R criterion and watch price react at certain levels as the EUR weakens. Alternatively we would consider trading the CHF long.
The current test re-test area will be 1.3500 figure. This is an important level but it may not hold and there is clearly a bias short for the EUR. This however does not mean that it won't have up days on its way lower. As always an intraday trader must trade what they see…not what their longer term bias may be.
Yesterday there was quite a sell-off as London got underway – after the European traders pushed price higher in their first hour. As the UK session got underway today, there were no buyers above the Asian highs – which again were put in by the European traders in their first hour.
With a 6.5:1 Reward to Risk ratio to our Target 2, we enter short with a 10 pip stop loss. As price moves down, we protect our profits and when price moves back above our Target 1, we exit the trade protecting our profits at that level. The same level also the completes a pattern from last week.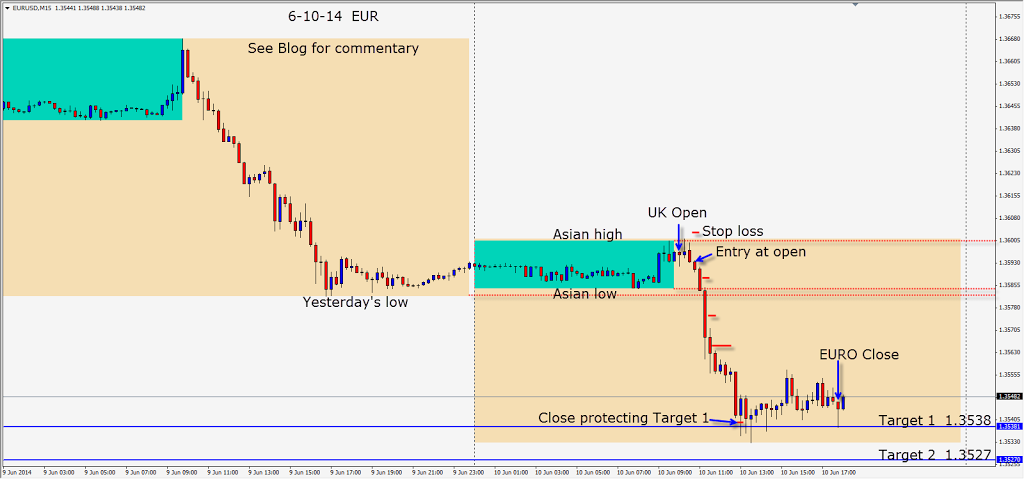 This pair may drop a lot more but be careful around the 1.3500 area as price tends to re-test such areas and will be telling of its momentum. We will keep profit stops tight and look for re-entry levels and candle formations.
Good luck with your trading!
Back tomorrow if we find a trade.