EUR sets up… drops and rebounds.
The EUR has not been able to take out and close convincingly above the January 14th interim swing high. Since January 24th it has been moving through its previous day's low, then rebounding. Once it pushes through the the previous day's low, large buying occurs and up it comes. As intraday traders, we love it. With a very affordable stop loss just above the triple top session highs, we enter with a greater than 4:1 Reward to Risk ratio to our Target 2.
This setup is a favourite… with the UK traders initially pushing price higher – luring in breakout longs. A pullback followed by a second move higher… forming a lower high with a wicky candle. Price did not challenge yesterday's high (Hint) and the session triple top was not tested on the second move up, thereby creating the lower high. (Second hint)
Price begins to plummet and takes out yesterday's low before rebounding.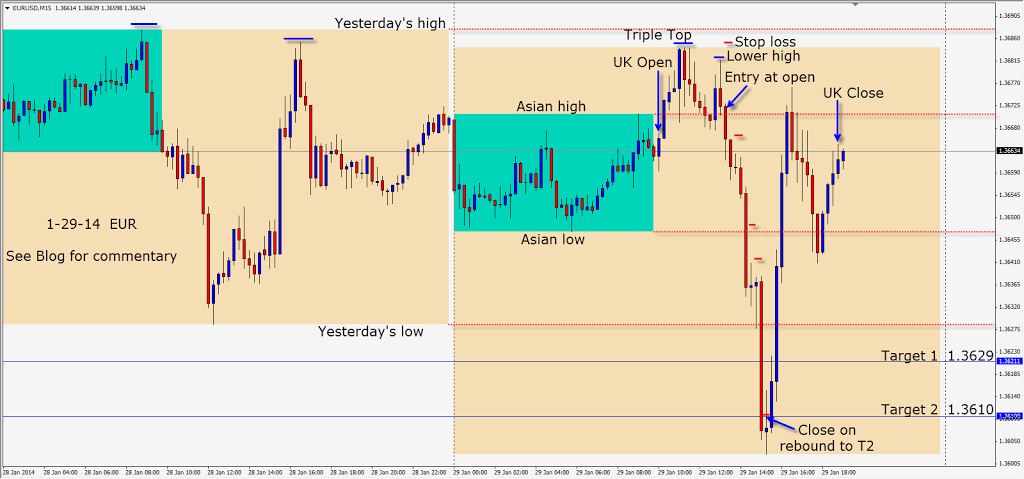 Later today in the Asian session is the New Zealand rate announcement. Expect volatility and if there is a large move during the Asian session, we will be looking for a reversal setup during the UK session. Always choose the best setup in the pairs that you are most comfortable trading.
Back tomorrow if can find a trade.