The USD was weak versus the JPY as the UK trading got underway. As it moved down closing well within it's Asian range, a short sets up. Although it looked like it would drop…it went sideways until the US session got underway. To reduce the risk which was initially 18 pips for a potential 74 pips to our Target 2, we move the stop loss down to minus 10 pips in advance of the US Open. This allows us to have the stop above the Asian session high, but keeps us on the edge of our seat until the US Employment figure is released. This pair tends to be very active with US traders.
As price moves down, we are patient around the levels and protect our profits accordingly by moving the stop down. As price dropped into the UK Close, we kept the trade open for another candle protecting Target 1 and close at Target 2.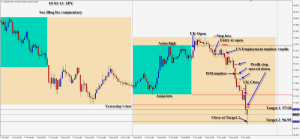 Apparently the US NFP Employment number will not be released tomorrow due to the current political issue regarding the US Government shut down.
We will be back tomorrow if we find a trade…if not – Tuesday.
Good luck with your trading!