USD weakness in the first half of the session was followed by USD strength in the second half once the US traders came on. Uncertainty continues in Washington DC.
It was very difficult to find a trade entry early in the session. As the US session got underway, the AUD topped out within 2 pips of our upside Target 2. Price reversed after a triple top and an entry short is taken with an initial stop loss of 9 pips. Our first objective is ride price to and hopefully through the Asian session high which is better than 3:1 Reward for the Risk.
Price move down and through the Asian high where we expected it to retest this level. As the UK session close approaches, we close the trade.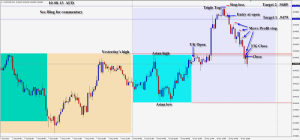 Lots of potential for volatility remains this week, so keep the stops tight.
Good luck with your trading!
Back tomorrow if we find a trade.