GBP produces some fairly quick pips with USD showing strength. Very light news session in advance of the US session commencing. The GBP has had an increasingly large trading range recently. This trade setup had the makings of a much larger move than what manifested.
After making a series of lower highs, the pair began to move up and down as the UK traders took charge. After breakout shorts had been tested twice, an engulfing bearish candle closes below the Asian session low. A better than 5:1 Reward to Risk ratio to our Target 2 made for a very attractive short opportunity. The trade quickly went in our favour and looked like it had lots of downside potential. As a wicky candle forms – taking back 10 pips, the trade is closed for a relatively quick profit to end our trading week.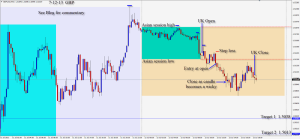 Overall a nice week of summer trading with some very recognizable trading patterns.
Good luck with your trading!
Enjoy your weekend!
Back Tuesday if we find a trade.