A session of USD weakness followed the economic news releases. The CHF and GBP (not shown) set up for very nice trades. After the European news, it was clear that the CHF could not close above the Asian session highs (hint). Price dropped to near the Asian session low which set up our trade. We had further confluence with a tool we use and with a stop just above the session high, we had a greater than 3:1 Reward to Risk ratio to our Target 2. As price dropped we remove the risk from the trade and lock in profit – should the market reverse. As price showed signs of stalling, we exit the trade giving back a half dozen pips.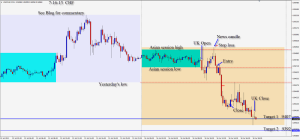 This was a very identifiable trade setup with our methodology.
When I first began trading, I heard that summer trading was not productive. This is an absolute myth! There is approximately $4 trillion of currencies traded each day. If the charts seem erratic…like Monday trading, I wouldn't recommend trading, but if you have a sound method and high probability trade setups present themselves, then why not take them? Conversely, if you don't have a sound method to identify high probability trade setups and know how to exercise sound money management, you will likely lose your account with a 90+% probability. This is a statistic that all brokerages know too well.
Good luck with your trading!
Back tomorrow if we can find a trade.