It seems like all eyes were waiting for the US Unemployment Claims and the US Trade Balance today. The UK session was relatively muted until the US economic releases. After the news candle, a short entry is found with a stop above the session high. Price plunged down near the Asian session low, but found buyers and closed up from our entry. Price then made its way back down to the Asian session low and tested this level for over an hours before plummeting further. We are closed just below Target 1.
This trade was a little uncomfortable after the first candle. Fortunately, it dropped after the second candle allowing us to remove the risk altogether from the trade. When in doubt, tighten stops or protect profits! This can be the difference between a successful trade and a loss.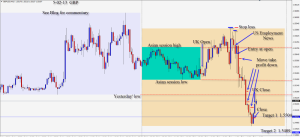 There have been a lot of big moves during the early US session of late. If price does not move much in advance of the US session, get ready, and look for a high probability setup.
The AUD presented a nice setup earlier on in the session, but only delivered 20 pips before reversing. ( Not shown) Still 20 pips is 20 pips and the setup was one of my favourites.
The markets are very active lately and have broadened their ranges. There will be lots of opportunities going forward to take advantage of rewarding setups.
We are done for the week. We do not trade NFP Fridays.
Good luck with your trading and enjoy your weekend!
Back Tuesday May 14th