Some days you get lucky even when you goof up. Thanks to tight stops and sound money management, we will not get hurt badly if a trade goes against us. I learned that lesson a long time ago and it was a VERY EXPENSIVE LESSON learned.
I do not recommend trading just in front of the news, but I missed the US ADP Non-Farm Employment Change item (no excuse) and could very easily have been stopped out.
On the other hand, the charts were unattractive to my eyes, and the AUD looked like the best trade of the session with it's lower highs. Had I not missed the Employment number, there would not have been a trade because the AUD began to run away after that – not allowing for a safe entry after the news.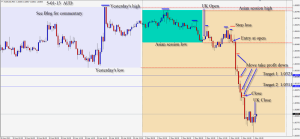 Good luck with your trading – it's really nice to have on your side, but we need to have a system, be focused, methodical and disciplined in trading…in other words…create our own luck!
Back tomorrow.
Michael www,privateforexcoaching.com