After an usually active Asian session, the UK traders immediately pushed the EUR down to its Asian session low. This is one of my favourite times to find a trade setup – after the Asian session has been very active. Unfortunately, I was unable to find a convincing entry to the upside and the trade got away from me. However, extremely late in the trading session, with just an hour before the UK close, I found a long entry. As there was very little time left, I took a very shallow stop and price moved up quickly enabling us to remove all risk from the trade and lock in profit after 15 minutes. Price moved up further, but failed to clear the figure – 1.3100 and we happily take our profits and close the trade.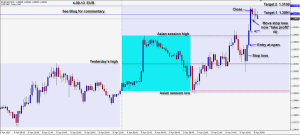 A good start to the week, after last week's lacklustre trading.
Good luck with your trading!
Back tomorrow.