It's a beautiful trading day when everything aligns and works out. There were several nice trade setups during the UK session. The EUR looked convincing to the downside when all the news was behind us.
An entry was taken short after price pushed hard down through the Asian session lows and closed below it. Sellers had entered above the Asian session high not allowing price to exceed yesterday's high. Price retested the Asian session low but could not close within it, then it began to drop. As the US traders came on and began their all too familiar reversal, we moved our stop loss to plus 2. This protects us in the event of a hard reversal. When there is no risk in the trade and the worst thing that can happen is you make a couple of pips, it takes the stress out of trading. There were no major US economic news releases pending, so watching the stock markets gave us further likelihood of the EUR's direction.
When price dropped precipitously, it penetrated both our Targets in the same candle. This enabled us to keep moving our take profit down until the market closed us out. It's been a while since we had such a gorgeous trade! My students will recognize this trade as being a textbook Mountain trade.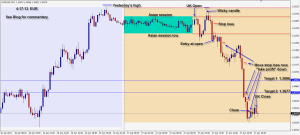 This has been an awesome week so far.
We will see what the markets offer us tomorrow…