Europe and the UK have moved to Daylight Savings Time.
We begin April with a big sell off in the GBP, but I couldn't find an entry that met my minimum 3:1 Reward to Risk ratio to our Target 2. The EUR didn't offer any entries either for me. With a little patience the CHF set up nicely once all the European and GBP news was behind us.
The CHF required a very small stop loss and a greater than 4:1 Reward to Risk ratio setup. All risk was removed from the trade within an hour of entry, so if the US traders came on and reversed the move, we would be closed out for a tiny, but positive gain. The sooner you can remove risk from your trades, the sooner it becomes "stress free".
We were up greater than our initial 3:1 R/R, but ended up closing the trade to lock in 30 pips. We are happy to take trades that net us 30 pips any day!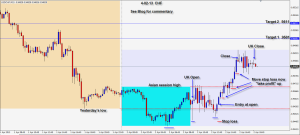 There appears to be a bit of disconnect between the USD strength and the US stock markets today. Both the stock markets and US dollar are strong. I keep stops tighter than usual when trading under such circumstances.
Good luck with your trading!
Let's hope for a great week in advance of Friday's NFP number.