Several of the majors set up nicely during the UK session, once the news was behind us. The CHF looked best to me. Not wanting to place a stop above yesterday's high, we chose to enter the trade with a stop a few pips above the Asian session high. This trade worked out well – making it to and past our Targets 1 & 2. We exited as price pulled back to our Target 2. As it turns out, price would go significantly lower without us.
We have no complaints as it was an excellent start to our trading week.
Last week ended with a malfunctioning keypad which kept us out of the market on Friday.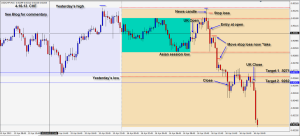 Good luck with your trading!
Back tomorrow.