This is potentially a very volatile week with so many significant economic news releases each day. We will not trade Non-Farm Employment / NFP Friday.
I was hoping for some nice trade setups during the UK session, but couldn't find any. As the US session got underway, the higher lows on the EURGBP caught my attention. This pair had dropped rapidly with the UK economic release earlier in the session and now was beginning to retrace as is very common when the US traders get going. The trade met our Reward to Risk ratio of 3:1 to our Target 2, but there was not a lot of time left in the trading day for us. We exit the trade as the UK session ends.
We will be very vigilant in selecting our trades this week, and moving our stop losses to take profit levels, as there is considerable potential for volatility all week. Overall the market was fairly subdued, we will see what tomorrow brings us.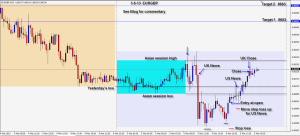 Good luck with your trading! Keep your stops tight and don't give back your profits!
Back tomorrow.