With little news until the US session, the majors started moving as soon as the UK traders began their day. The EUR and GBP required larger stop losses than my comfort zone, but the EURGBP allowed for a stop loss that just met our criterion of 3:1 Reward to Risk to our Target 2.
The first hurdle for this trade was to make it through the Asian session low, once it did, the risk was taken out of the trade by moving the stop loss down, while allowing for a re-test of the Asian session low. The stop loss, now "take profit" was incrementally moved down to lock in profits in the event of a reversal. As price re-tested our Target 1, the trade is closed. Price then continued down to our Target 2 and beyond. When price is not moving down with momentum at our Target 1 level, it is better to close the trade or put the "take profit" at Target 1, than to get greedy.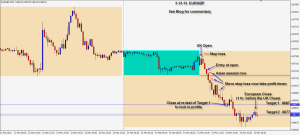 Good luck with your trading!
Back tomorrow.