A similar trade to yesterday with the EURGBP showing lower highs and fading to the downside. This pair is a slow mover making it easier to trade than many pairs. It is crossed with the GBP, so the pip value is approximately 1.5 times that of a USD cross.
This trade set up with lower highs, and once we entered, our first hurdle was to get through the Asian session low. Once price did, we removed the risk from the trade by placing our stop a little above the Asian session low to allow for a re-test. Price moved down from there and we were closed out on the hammer-like candle protecting 20 pips. Had we not protected the 20 pips, we would have been stopped out on the retracement caused by the US News. It's always better to lock in some pips, remove risk from a trade when prudent to do so, than to give your pips back to the market.
We subsequently saw a beautiful setup on the CHF after the US News. ( Not shown here) The entry was on the open of the third red candle after the long wicky candle which formed the high of the day. Our Target 2 was .9480 and price plummeted right through it allowing for some additional bonus pips. The EUR & GBP also had big moves, but the CHF to my eyes had the best setup.
If you can find a nice trade setup in the UK session and another setup or a reversal trade in the US session, it makes trading a lot easier. Typically the US session trades will not provide as many pips, but this certainly wasn't the case today.
This has been a great week to trade! What a difference a week makes – on the heels of last week's tricky and dismal trading. It all averages out and we are only mid way into March.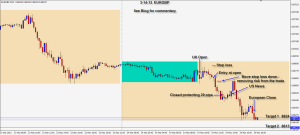 Good luck with your trading!
Back tomorrow.