There were several nice trade setups during the UK session to choose from. I liked the EUR best because it had a greater than 5:1 Reward to Risk. The stop loss on this trade was about 11 pips for a potential 62 pips to our Target 2. We closed the trade just above our Target 1 to lock in 45 pips.
I always move my "take profit" level down as a trade progresses. Once the risk is out of the trade and you have locked in some profit – there is no stress. When you have an acceptable number of pips and price retraces, it's best to lock in your profits, as opposed to giving them back and hoping price will come back in your direction, without retracing too much. The old expression…"you will never go broke taking a profit" comes to mind. Any day that you can get 40 pips is a great day. Some days, you will get 50, 60, 70+ pips in a trade. When those day's happen – rejoice!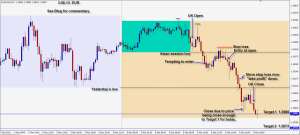 Good luck with your trading!
Back tomorrow.