The EURGBP can be a very nice pair to trade. It moves slower than the EUR or the GBP, so it's easier on the nerves as it tends to be a gentle moving pair. As it is crossed with the GBP, it has a higher pip equivalent than the USD crosses. When this pair trends as it has since the beginning of January, it can produce some nice returns. When it has a tight trading range, it is best to avoid this slow mover.
It set up nicely last night and to my surprise went well above our Target 2. As price hit Target 2, we closed the trade happy with the 3:1 Reward to Risk ratio trade setup that we entered. We may have left at least 35+ pips on the table, but greed is very dangerous in trading and the downfall of many a new trader. Have targets, manage your risk, lock in profits and read price action. If you can do these 4 things, you are well on your way to being a successful trader.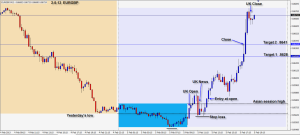 February has all the makings of being an interesting month for trading.
Back tomorrow.
Good luck with your trades!