Although there was lots of movement during the UK session, it was difficult to find a setup that met our minimum 3:1 Reward to Risk ratio. The NZD or Kiwi moves very similarly to the AUD most sessions. The Kiwi setup required a smaller stop loss and the setup was more convincing to my eyes.
Both the NZD and AUD as it turned out, began to move at the same time. If a trade gets away from you in one pair, have a look at a similar moving pair for an entry, but never chase a trade. The EUR and CHF move inversely, so I usually like to confirm a setup in the EUR with the CHF looking like it will move in the opposite direction.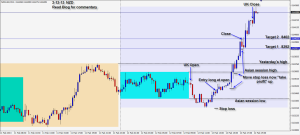 Good luck with your trading!
Back tomorrow.