The EUR broke through the Asian session low very quickly once the UK session got underway – without retesting the level. I learned a long time ago from my mentor, it's never a good idea to chase a trade.
The CHF moves inversely to the EUR because the Franc is the cross not the US dollar. I typically use the CHF to confirm (inversely) the EUR setups. In this case, when the CHF made a lower high, just as the EUR made a higher low, I opted for the CHF short. The CHF offered a tighter stop loss and with some major US news releases around the corner, it seemed like the better trade at the time. The Reward to Risk was 4:1 to our Target 2. It turns out that there was more money to be made by taking the EUR long. Oh well…that's trading.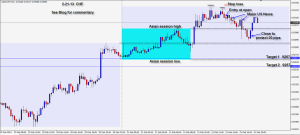 Let's see what Friday brings us in the way of opportunity to close the week.
Good luck with your trades.