After a very active Asian session, the CHF lured in breakout longs and set up a familiar pattern for us to take it short. With very little news during the UK and US session, it was not easy to find a good trade setup. After a very active Asian session, I like to find a setup that will run in the opposite direction to where price is when the UK traders come to their trading desks. In other words, if the Asian session has extended itself to the long side, then I am looking to find a trade setup to go short.
Unfortunately this trade produced modest gains and ended the session in the middle of the Asian range. Very often trade setups like this will run right back to where price began the Asian session.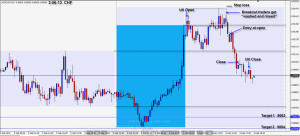 Let's hope for some bigger moves in the UK session tomorrow.
Good luck with your trading!