Trading is showing signs of being quite erratic this week. As we go deeper into the holiday season, trading volumes decrease and the chart setups are less clear. When this happens, it's best not to trade. You must be extremely disciplined to make money trading. During holiday periods, it's harder than normal, because the largest traders step away from the market, but they will be back!
The CHF looked best to me of the majors overnight, but I could not find a satisfactory trade setup.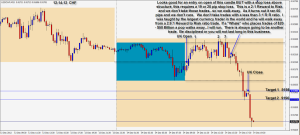 The market is not going anywhere. In January the trade setups will become clearer once again.
I will be travelling on Tuesday but will check for trades during Wednesday's UK session.
Have a wonderful weekend!
Back Wednesday…