Modest EUR gains to start the month of December. After a series of higher lows and luring in breakout traders, the EUR pulls back, then forms another higher low. It's unusual to see yesterday's high and the Asian session high so close together. The Reward to Risk exceeds our minimum 3:1 ratio to our Target 2. We enter long and patiently watch price test and retest the Asian and yesterday's high. Price begins to climb but does not reach our Target 1. After seeing a very wicky candle, implying a reversal may be imminent, we exit for modest gains at the opening of the next candle.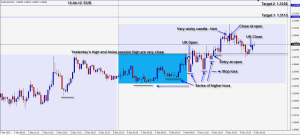 The month of December has arrived and trading will slow down in advance of the holiday season. Let's hope we can find lots of good trades before the volume fades and trading becomes erratic.
Good luck with your trading!
Questions – Michael@privateforexcoaching.com