AUD set up as a nice trade overnight. After initially dropping after the UK open and moving down near the Asian session low, it moves up with several very wicky candles pushing off the bottom. After a higher low is made and entry long is taken with a stop loss just below the Asian session low. Price moves up, pulls back and forms a series of higher lows…enabling us to move our "take profit" up with each swing. We close the trade at Target 1 as we are late in the session and a retest of the figure – 1.0400 is very likely. We don't like to give back profits once Target 1 is attained.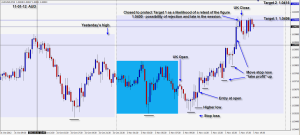 It wasn't until yesterday, that it dawned on me, the UK and Europe moved their clocks back last weekend and that I have been off by an hour this week. North America moves their clocks back this weekend and everything will be back in sync next week.
It been a good week for trading.
Non Farm Payroll is tomorrow and I don't trade that day, so I will be back Tuesday.
Enjoy your weekend!