The AUD makes a nice move overnight. After 2 really nice weeks of trading, this week is proving to be a little more difficult. Although it looks like closing the AUD trade overnight at Target 1 was a little too soon, some trades work out that way.
I would rather keep the majority of my daily target and miss out on some pips, than give them back by being too loose with my stop loss and undisciplined. Greed and poor trade management can destroy an account. Always be disciplined when trading and abide by your rules.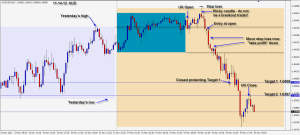 Good luck with your trading.
Back tomorrow…
Michael