The AUD continues to look clearest amongst the majors to trade. A very small stop loss combined with our minimum Reward to Risk ratio made this trade setup look attractive. The EUR and GBP continue to be too difficult to find an appropriate trade setup meeting our criteria. The AUD looked good, but it didn't give us many pips, and that's trading. We can only strive for what the market is willing to give us.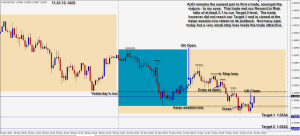 A holiday in the U.S. and Japan tomorrow but not in the UK.
Happy Thanksgiving U.S.A.!
Back tomorrow…
Questions Michael@privateforexcoaching.com