The EUR made it to both our targets today, but without us. There was a lot of news pending for the GBP, EUR and USD overnight. Price chopped back and forth in advance of it and then reacted positively with the EUR making it to and beyond the 1.3000 level. Expect this level to be tested and retested as it is a major psychological level.
Although the EUR appeared to be making higher lows as the UK session progressed, I chose to stay out of the chop. Once the news was out of the way, the EUR had climbed significantly and our minimum 3:1 reward to risk was not to be found. If the news had been perceived negatively by the market, the drop could have been just as significant.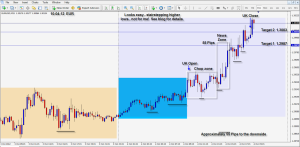 Always be very cautious of trading before major economic news releases and be especially cautious of trading in advance of an accumulation of major economic news releases – like today.
Tomorrow is Non-Farm Payroll Friday in the U.S. and the market is usually pretty flat in advance of the release. I don't trade it….so I'll be back Tuesday.
Enjoy your weekend!