Beautiful EUR trade setup with a reward to risk ratio of near 6:1. This trade offered 2 entries with very little risk for either. With no European economic news releases of consequence, a trade short is taken after the wicky candles indicated the top was in place. An alternate entry followed with a lower high and a bearish engulfing candle. The risk was removed early as the trade progressed down and our stop loss continued to be moved down to protect our profits. It looked like our Target 2 would be hit in advance of the London close, but it wasn't to be. As opposed to giving back a few pips to get 4 or 5 more…the trade is closed.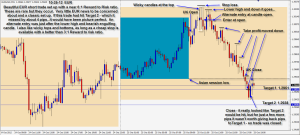 It has been a great week! The majors are moving well again – including the GBP…which is nice to see. I was wondering if we would have to wait until after the US election.
Not every week will be as kind as this week has been – so this makes up for the dull boring ones, when the signals are less clear.
Back tomorrow and remember the words below by Curtis Faith.
"Trade with an edge, manage risk, be consistent and keep it simple."
Curtis M. Faith – who earned more than $30 million dollars trading for Richard Dennis