The EUR offered up a nice trade again, to end the week. As the UK session began, the European economic news was released and behind us. The next pending news would be in the US session. The EUR traded sideways then began to rise but did not take out the Asian session high. Price then reversed and a short trade was taken. This same setup is mirrored with the CHF confirming the trade direction.
Price moves to the Asian session low and closes before dropping to our Target 1 level. I teach my students to not give back profits once Target 1 is hit. We close the trade on the next candle to protect our profits and end the trading week.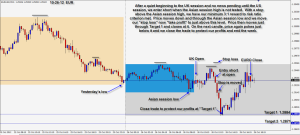 It's been a great week for trading!
Enjoy your weekend!
Back Tuesday.