It appears that the EUR will be making headlines this week, but the AUD set up nicely for us overnight. After initially moving down as the UK session got underway, then consolidating, it retraced upward…forming a lower high with wicky candles as it ran out of upside momentum.
We entered short with a stop just above the lower high, with a reward to risk ratio of better than 4:1. After zipping through the Asian session low and barely missing our Target 1 (due to spread) – we tighten our "take profit" and exit for a very nice profit. My students would recognize that after the candle that touched Target 1, price had an 80% chance of retracing upward. This is not due to it touching Target 1, but due to an advanced technique that also tips us off as to when to tighten our "take profits".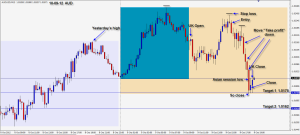 Excellent start to begin the trading week.
I will be travelling on Friday, so it will be a short week for me.
Good luck with your trading!