Quiet trading overall in the UK session, but we managed to squeeze some pips out of the AUD. The Aussie dollar had been making higher lows and once the breakout traders jumped in long after the UK session got underway, we waited for the pullback.
This entry allowed us to enter with an 8 pips stop loss and a better than 5:1 reward to risk ratio to our Target 2. The trade progressed fairly quickly allowing us to remove any risk and place our "take profit" below structure. Price seemed to run out of momentum at our Target 1 with a wicky candle closing below our first target. We exited on the opening of the next candle for a few pips.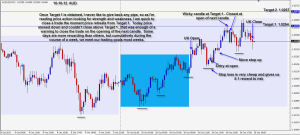 Let's see what tomorrow brings us.
Good luck in your trading!